Download and Install The Sims 4 Discover University including the latest 1.59.73.1020 Patch (December 12th with Baby Yoda!) to have The Sims 4 with All DLC ready to play anywhere, anytime!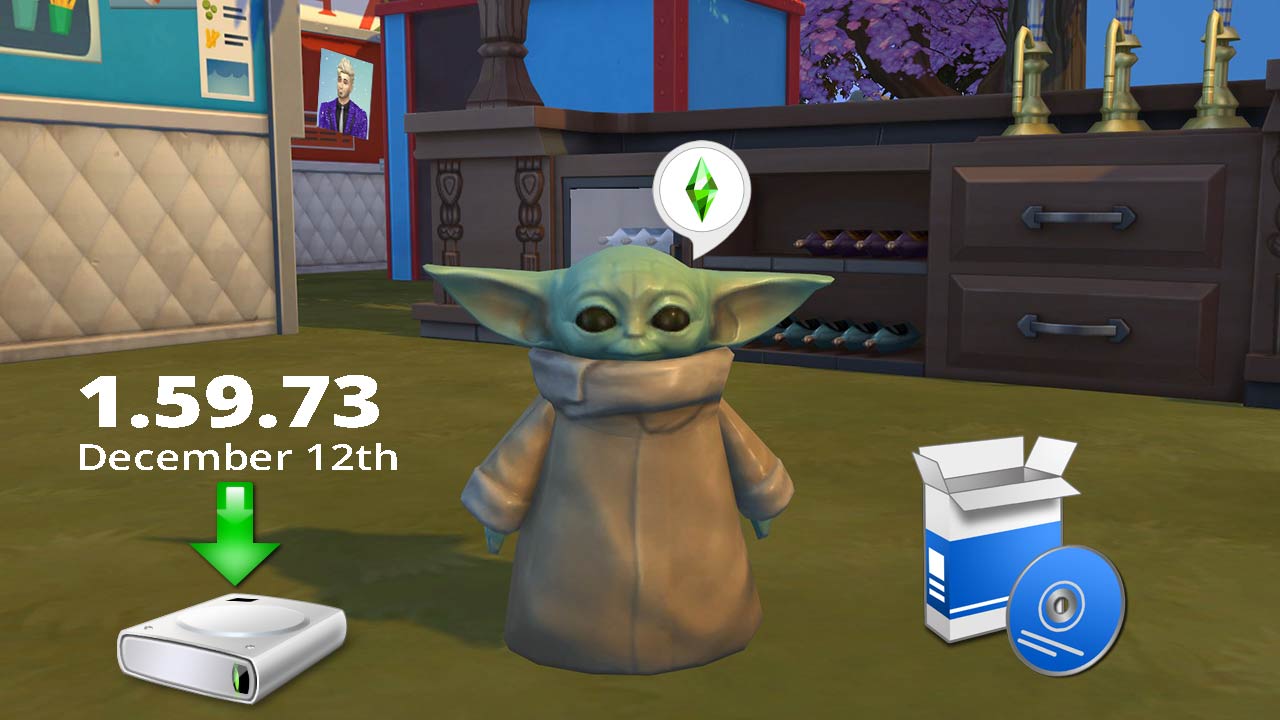 The Sims 4 December 12th Patch 1.59.73.1020
Official Release Notes [From EA]
Hello Simmers!

It's been quite the year for The Sims 4! We blew past the game's 5th anniversary with no signs of slowing down. One of the community's most highly requested expansion packs just launched recently, and we hope you're all enjoying getting educated in Discover University. In case you haven't heard, we've also launched another community Stuff Pack project, where your collective votes will decide the path of yet another pack coming to The Sims 4. And of course, The Sims' franchise 20th anniversary is just over the horizon, which we're looking forward to celebrating with you.

Today's update has been influenced by you as well... We set aside time to specifically address issues that you've let us know are important to your in-game experience, and we hope the long list of fixes and improvements you'll find below will lead to many hours of fun playing The Sims 4. In addition, we've squeezed in a few un-planned extras we hope you'll enjoy. Not only have we added some new music tracks to the game, but we've also converted a number of hairstyles to now also be available for children and toddlers. While the adult versions of these styles will remain exclusive to whichever pack they originally came from, we hope you'll all enjoy these additional options for your Sim's little ones.

While Maxis will soon be taking a short break to enjoy the holidays (merry Winterfest, and a Happy New Year!), we'll be back for another packed year for The Sims 4 in 2020. See you then!

-SimGuruGraham, ft. SimGuruGnome
Music
The following music has been added to the alternative station:
"Nicknames"
Performed by Dayglow
Written by Sloan Struble
Copyright Control
Recording courtesy of AWAL Digital Ltd.
"4am"
Performed by girl in red
Written by Marie Ulven
Copyright Control
Recording courtesy of AWAL Recordings
"prom dress"
Performed by mxmtoon
Produced by Robin Skinner & mxmtoon
Written by Maia M-T
Published by Songtrust Music Publishing
Recording courtesy of mxmtoon LLC under exclusive license to House Arrest/The Orchard
By Arrangement with Bank Robber Music
"Win You Over"
Performed by Whethan & Bearson feat. SOAK
Written by Ethan Snoreck, Jakob Bjørn Hansen, Birdie Monds-Watson, Anthony Whiting and Emily Phillips
Published by Whethan Publishing/These Are Pulse Songs (BMI) c/o Pulse Publishing Administration, Next Wave Music Publishing, Universal - PolyGram Int. Tunes, Inc. on behalf of Universal Music Publishing Ltd., Universal Music Corp. on behalf of itself and PW Arrangements, and Domino Publishing Company USA (ASCAP)
Whethan appears courtesy of Atlantic Recording Corp.
SOAK appears courtesy of Rough Trade Records
Recording courtesy of Ultra Records LLC