How to download and install The Sims 4 Star Wars: Journey to Batuu with all DLC and run it from any computer, with or without internet access, even from an external hard drive!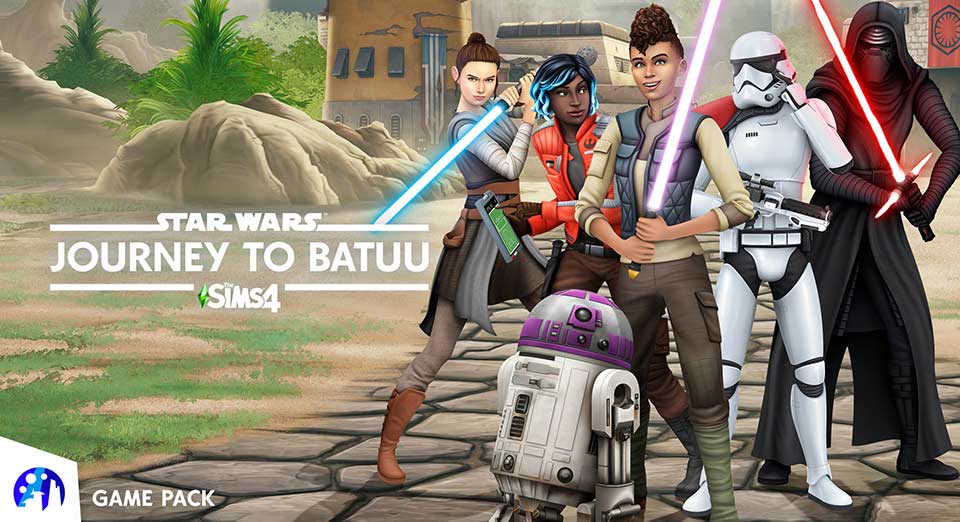 ---
---
Included in This Release
The Sims 4 [Base Game Version 1.66.139.1020 & Legacy 1.66.139.1520] + Previous Patches / Fixes / Updates
The Sims 4 Star Wars: Journey to Batuu
Nifty Knitting Stuff Pack
Eco Lifestyle
Tiny Living
Discover University
Legacy Edition
Realm of Magic
Moschino
Island Living
Strangerville
Get Famous
Seasons
My First Pet
Laundry Day
Jungle Adventure
Cats and Dogs
Toddler Stuff
Fitness Stuff
Parenthood
Bowling Night
Vampires
Vintage Glamour
City Living
Backyard Stuff
Kids Room
Dine Out
Romantic Garden
Movie Hangout
Get Together
Spooky Stuff
Cool Kitchen
Spa Day
Perfect Patio
Luxury Party
Get to Work
Outdoor Retreat
Also Included...
Visual C# Runtime Libraries
Language Changer
DLC Toggler [Lets You Turn Expansions On/Off, you can just not download the DLC you don't want if you prefer 😉]
DLC Uninstaller [To Uninstall Unwanted Expansions Permanently & Save Space]
---
🙄 You can watch a few videos above, which I selected amongst the most interesting ones related to the new Game Pack, starting with EA's Official Trailer 🎥
Do you have a video about it that you would like featured above? Let me know in the comments section below!
The Sims 4 Star Wars: Journey to Batuu
---
---
Experience The Edge Of The Galaxy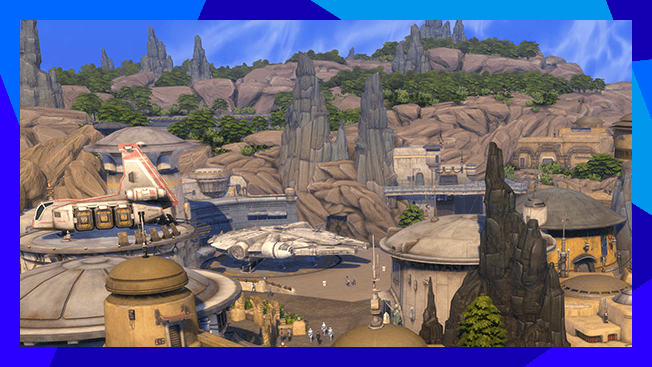 Your Sims are definitely not at home anymore. From the Millennium Falcon to the bustling cantina and unique attire of Batuu, Sims will be surrounded by the iconic sights and sounds of Star Wars™. Socialize with the alien locals to truly understand why Batuu is unlike any other planet. When your Sim returns home, bring back new decor and recipes inspired by your travels, play a game of sabacc, or host a playful lightsaber training session.
From the moment Sims arrive on Batuu, they'll be surrounded by the sights, sounds, and smells of Star Wars™. Majestic petrified trees rise high over the settlements and ships pass overhead, engines whining. Black Spire Outpost hums with activity as alien locals and busy droids go about their days. Vendors serve up Ronto Wraps and Fried Endorian Tip-Yip to hungry Niktos and Rodians. Curious Abednedos, Mirialans, and Twi'leks browse the wares at Dok-Ondar's Den of Antiquities. Sims might recognize a certain infamous ship, the Millennium Falcon™, or hope to escape the notice of patrolling stormtroopers. But once they arrive, they'll never want to leave.
Create Your Star Wars™ Story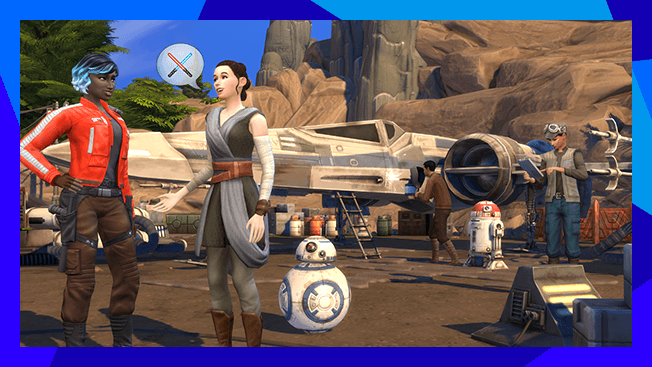 The Resistance, First Order, and scoundrels are fighting to control Batuu, but your Sims' actions determine who will succeed. As Sims undertake challenges and special missions, you'll tip the balance of power. Your influence not only changes the world, but also unlocks rewards like starfighter access, new outfits, and critical missions on Batuu. And who knows? Maybe you'll find your Batuuan special someone!
Unite With Iconic Characters
Completing missions earns your Sim reputation points, and as you rack them up, you get closer and closer to meeting the leaders of the forces on Batuu. The possibilities shift depending on your Sim's actions—will you choose to support Kylo Ren in his efforts to uncover the Resistance base, or will you join Rey and Vi Moradi in the fight against the First Order? Whichever path your Sim chooses, Hondo Ohnaka and his scoundrels are always there if you need a few extra galactic credits.
Get Your Own Lightsaber And Droid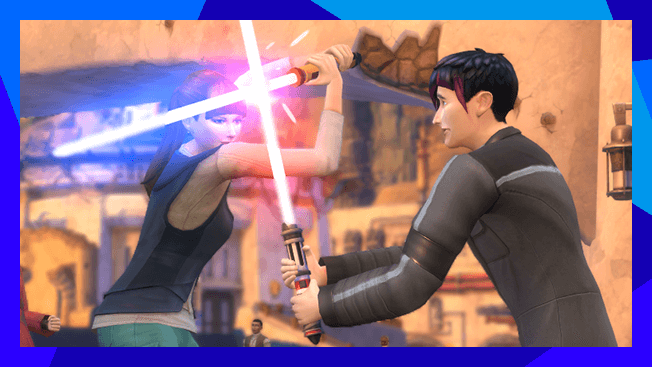 Explore Batuu to find kyber crystals and hilts for the most coveted Star Wars™ artifact: a lightsaber. Collect every piece to construct a blade that's all your own. Then invite other Sims to spar in lightsaber challenges! Or visit the Droid Depot and purchase your very own droid to help you on your adventures… and maybe zap a few Sims here and there to distract them. You can even bring your droid friend home with you so you always have that plus-one for parties!
Earn a Reputation
The tension between the factions on Batuu is evident. Stormtroopers patrol the streets, searching for evidence of the hidden Resistance, and rebels carry out secret plans from their mysterious bunker. Even the smugglers operate a lucrative business, staying neutral to take advantage of both the Resistance and the First Order. So, which will your Sim join?
DJ R-3X, the droid in charge of the music at Oga's Cantina, is the best point of contact for learning about the different factions. At first, missions will be simple, sending your Sim off to rifle through supply crates or chase rumors about the growing Resistance presence. As a result of completing a mission, Sims collect rewards—and earn reputation points with the associated faction. Increase your Sim's reputation to rise through the ranks, from sympathizer or supporter to sergeant of the Resistance or First Order. If galactic credits motivate your Sim more than ideals, the scoundrels are always looking for assistance—that's just good business.
As your Sim's reputation grows, it also affects the way locals react to them. A Sim highly regarded by the First Order will find it difficult to chat with Resistance supporters. Climbing the chain of command by completing missions also begins to introduce new faction contacts. Depending on the choice your Sim makes, they might encounter Vi Moradi running a mission, Rey practicing with her lightsaber, Kylo Ren losing his temper, or Hondo Ohnaka cheating at a game of sabacc.
Acquire Artifacts and Treasures
It wouldn't be Star Wars™ without lightsabers and droids. On Batuu, Sims can find parts for their own lightsabers! Take a trip to Savi's Workshop to see a few of the hilt and kyber crystal options, or complete missions to earn rare pieces as rewards. Try different crystals until you find the one that is right, and once it's done, start training! Practicing with a lightsaber or sparring with other Sims builds the Fitness skill, too.
Need a friend on Batuu? Why not a droid?! Just collect scrap metal from scrap piles around Batuu and earn enough galactic credits, then purchase a droid from the Droid Depot, where they offer both R- and BB-series astromech droids. Once Sims have customized their droid, give it a name and watch it go! Your Sim's new buddy will follow them everywhere on Batuu. Plus, droids are helpful on missions. They can use their scanners and electro-prods to assist Sims by searching crates, scrambling control panels, or distracting rival faction members. These are the droids you're looking for!
Bring It Home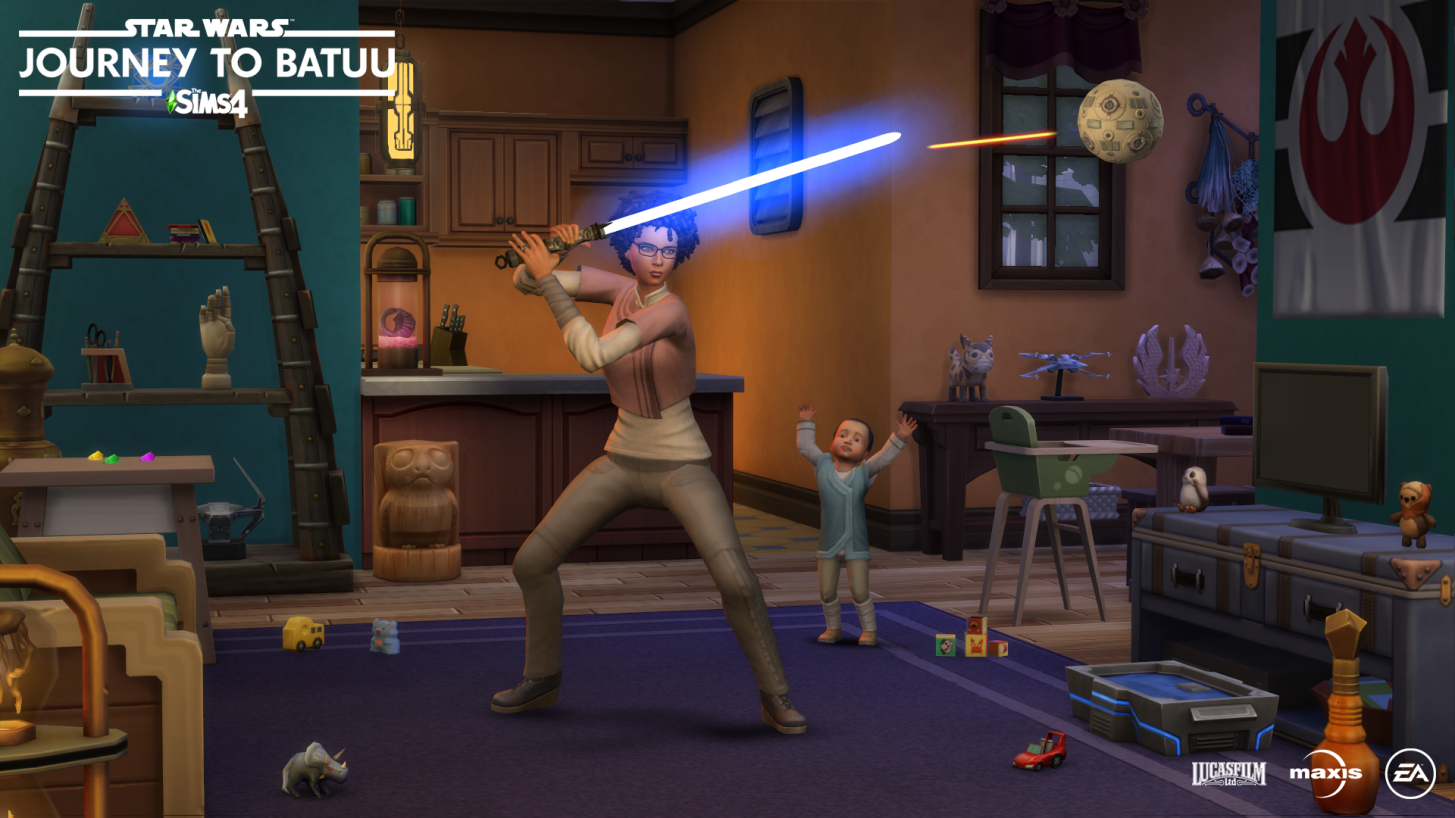 When your Sim returns from Batuu, they won't be coming back empty-handed. Enjoy Star Wars™ inspired updates in decor, home design, and even recipes. Whether Sims display the antiquities they collected on Batuu or revamp their style completely to imitate the dwellings of Black Spire Outpost, they don't have to leave their Star Wars™ adventure behind. Invite neighbors over for a game of sabacc or a lightsaber sparring session whenever you like.
Plus, any droids ordered on Batuu return to the Sims world as well! Sure, droids might not go around zapping people in Willow Creek, but Sims can still build relationships with them and have fun driving them around with a datapad!
---
The Sims 4 Star Wars™: Journey to Batuu Game Pack arrives on September 8, 2020, at midnight in your region for Mac and PC and at 10 a.m. PT for Steam, Xbox One, and PlayStation®4!
*REQUIRES THE SIMS 4 (SOLD SEPARATELY) AND ALL GAME UPDATES. FOR PC, SEE MINIMUM SYSTEM REQUIREMENTS FOR THE PACK.
Lucasfilm, the Lucasfilm logo, STAR WARS and related properties are trademarks and/or copyrights, in the United States and other countries, of Lucasfilm Ltd. and/or its affiliates. © & ™ Lucasfilm Ltd. All rights reserved.
---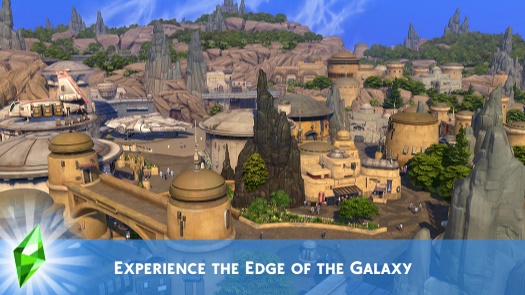 ---
Content designed to help you have more control over the game you already own through legitimate methods. I am not the creator of the game and I am not responsible for the misuse of the content found on my site or any other media where I publish.