The Sims franchise is 21 years old and, to commemorate, on February 25th, 2021; there will be a massive collaboration update involving at least 21 Sims 4 Content Creators!
Grab a Simsmapolitan! We're 21! 🎉🥳
To celebrate, we've partnered with some talented creators to create a gift for our community, by our community #YouMakeTheSims 🤗
We can't wait to share on Feb 25th! What is your favorite thing about The Sims community?🎈 #TheSimsTurns21 pic.twitter.com/lKGQypw850

— The Sims (@TheSims) February 4, 2021
If you follow @TheSims on Twitter you likely saw the post above, which teases about the upcoming 21st Anniversary Update for The Sims 4. Interestingly, as usual, their own staff "leaked" some information with their French account: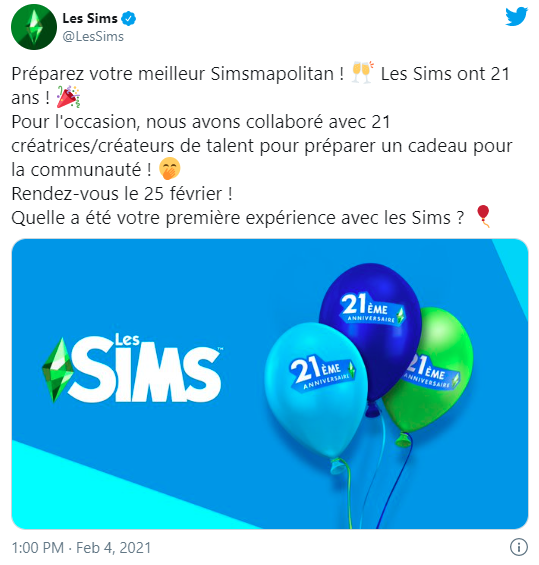 And, of course, there's speculations all over the place about the possibility of having "Sims 4 Generations" content or even an expansion pack, I am sorry if I feel it's delusional to expect that much from a free update from EA, sorry to burst the bubble. Not seeing an expansion pack being released without any warning as well, but who knows? Why sell more copies of the game by building up hype when you can silently release your material and sell much less, right? 🤦🏻‍♂️
Taking a quick look at @TheSims feed, I am very pleased to see their current focus on the black community, and it would be really awesome, in my opinion, to have a pack / update that celebrates diversity, and perhaps that's something we may see on this Sims 4 Update 1.71 released on February 25th, 2021...
🎂 ✊🏻✊🏼✊🏽 🥰 ✊🏾✊🏿✊ 🍰
Anyway, stay tuned for news and the official Sims 4 Patch Notes for this so not awaited February 2021 Update.