This is HUGE!!! Find out what to expect from the November and December base game updates, which will bring us thousands of new skin tones (after using the new slider and 100 base shades).
FOLLOWING UP ON SEPTEMBER NOTE
[Official Information from EA Below]
What to expect from the November and December base game updates.
A few weeks ago, EA shared some of their plans for updating skin tones and diversity options in The Sims™ 4, and it's time for them to check in again! Find out what to expect over the next couple of months below.
Where We Are Now
On October 6, EA launched a PC base game update* that improved issues with some of the existing darker skin tones. Specifically, they addressed the color banding that appeared on Sims' cheeks and foreheads, which created a streaked and inconsistent appearance, and fixed discoloration along the nose tip. Doing so allowed them to create a consistent tone across the whole of the body, allowing for the shadows and details to be more visually distinct. (You can read about the specifics below to see whether the update applies on your computer.) They also tweaked the male afro and braids base game hairstyles to reflect the detail, texture, and style of their real life counterparts. Console players will notice those changes reflected in the November 10 update.
These improvements are just the first step in EA's plans to give you the tools you deserve to express and represent yourself.
An Important Update Hits This December
On December 8, EA will be adding over 100 new skin tones to The Sims 4. Every skin tone will have a value slider to unlock thousands of more customizable options. In addition, they'll make compression improvements to make both new and existing skin tones display better, including strengthening the quality of suntans and sunburns.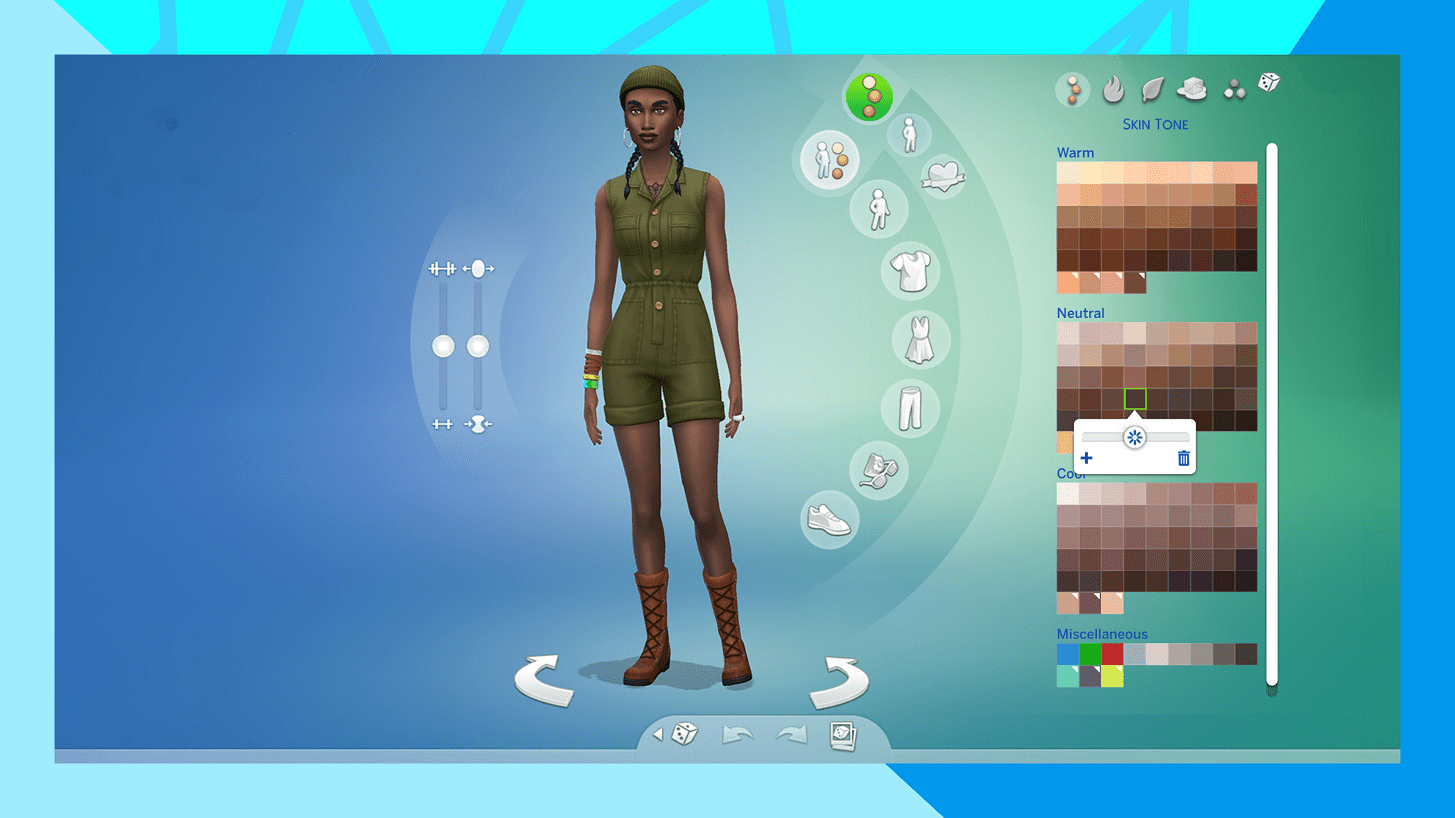 Their December update also includes the introduction of four makeup sliders to more freely complement all skin tones. The hue slider lets you control your color, while the value slider lets you adjust brightness. You'll be able to adjust transparency with the opacity slider, and control how much color is in your makeup with the saturation slider. This will ensure your chosen makeup looks just right on your selected skin tone.
Lastly, three more base game hairstyles will see improvements in the December update. These include two children's hairstyles—the braided ponytail with baby hairs and the braided ponytail without baby hairs—and the flat-top texture hairstyle (Will they make it afro instead of being straight? White people, myself included, also wear flattops and we have straight hair 😡).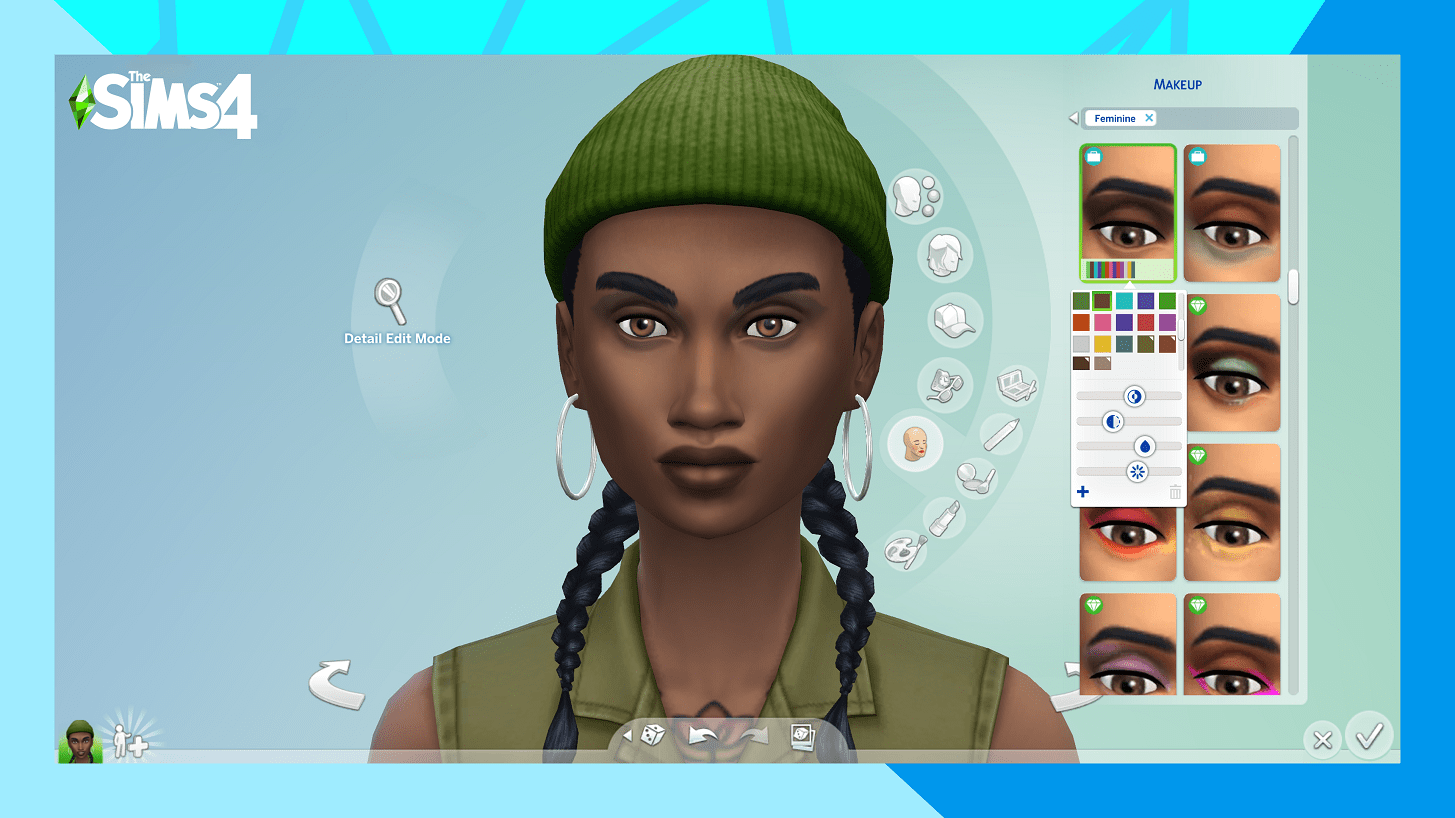 More to Come
EA says it's their goal to ensure the representation in The Sims 4 is more inclusive. To do so, they've been working with consultants, including prominent community members like Game Changers Mia Zaff, EbonixSims, Rao, Xmiramira, and CatherineGames. They've been advising in their endeavors to create a more inclusive game for everyone. It was their suggestion to add additional hairstyles without baby hairs in the December update, which is why there are three rather than the two we previously announced.
Going forward, EA says they're committed to continuing to improve The Sims 4 to give you the game you deserve. They also say they can't wait to see what you'll create in the future, and they're so grateful to have you on this journey with us.
*Please note that the October 6 PC update is, at this point, visible only to those running the game with the "Uncompressed Sim Textures" graphics settings turned ON. This will not be the default setting on all machines, so follow these steps to check your settings and see the graphic updates. To turn ON "Uncompressed Sim Texture" in the game, go to Options > Game Options > Graphics Tab > Graphics Sections > check "Uncompressed Sim Textures." If your machine has lower graphics settings and you attempt to run with uncompressed graphics, you may experience a crash; to recover, please re-enable graphic compression. Based on the current specs that default "Uncompressed Sim Textures" to ON, we recommend a graphics card rated medium, high, or ultra and at least 2 GB video RAM.