It's official! EA just released more information about the next Sims 4 Carnaval Streetwear Kit! Find out more below and get ready to download and install everything!
Official Release Tweet - January 26th, 2022:
It's time to celebrate 🎊 Simmers - @pabllovittar style!

Dance into the bold fashion of cutouts✨ and sequins 💎 with The Sims 4 #CarnavalStreetwearKit! 🤩

Available February 3rd pic.twitter.com/ypRDZ8p7Kk

— The Sims (@TheSims) January 25, 2022
The Sims 4 Carnaval Streetwear Kit Official Release Video
The Sims 4 Carnaval Streetwear Kit Description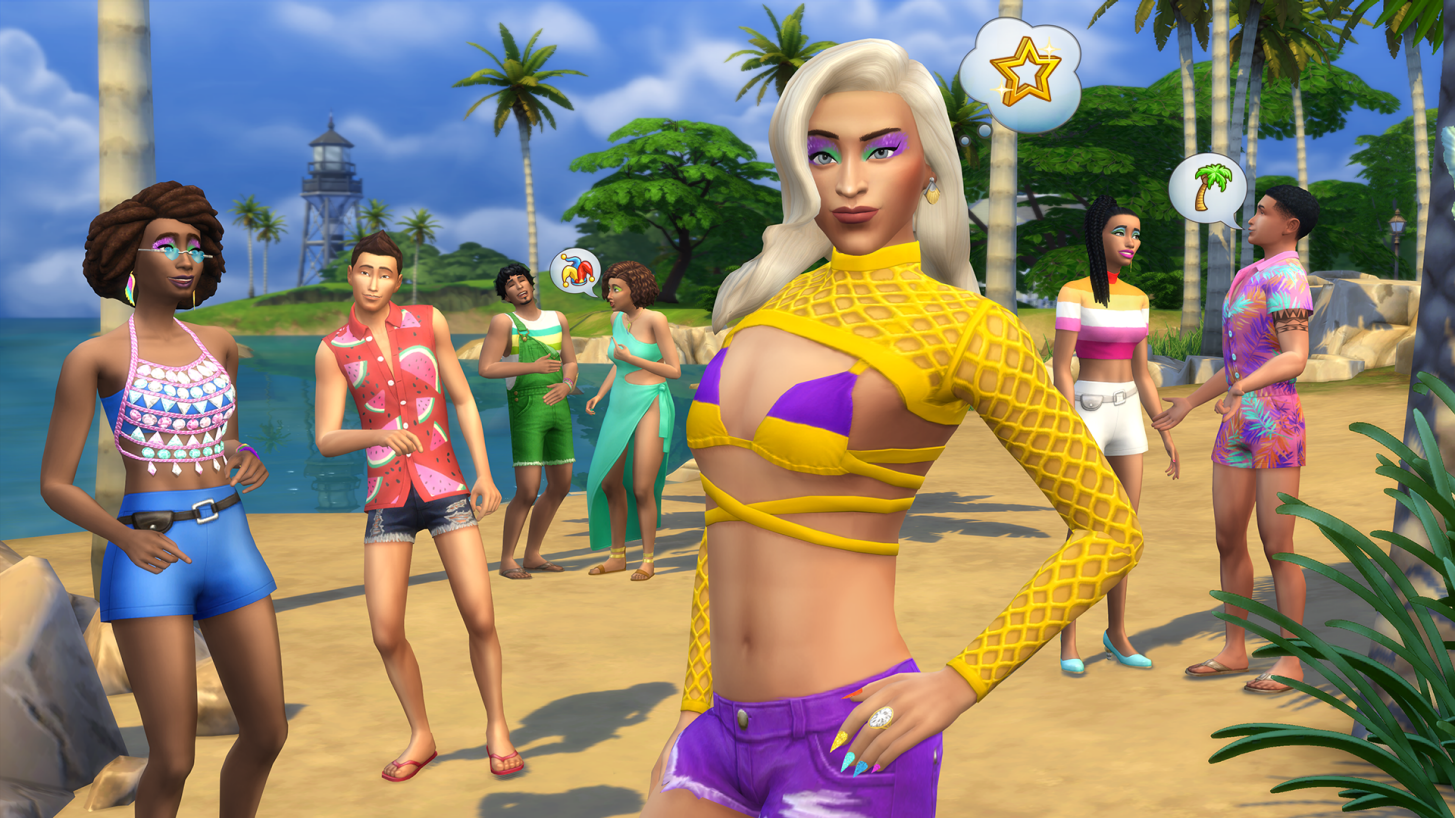 Designed by EA in partnership with Pabllo, The Sims 4 Carnaval Streetwear Kit (SP30), allows you to diversify your Sims' wardrobe in Create-A-Sim with an eclectic mix of effervescently fierce looks. You will be able to dress your Sim in outfits with cutouts, multicolored fruit patterns with graphic contrasts, sequined tops as well as bold makeup and colorful accessories. Each piece was inspired by Pabllo's larger-than-life personality, the costumes of Brazil's vibrant Carnaval and the street parties, known as bloquinhos, that take place.
"Carnaval is a celebration that unites people from all over the world," said Pabllo Vittar. "For Carnaval, you can't dress up basic. Carnaval represents a lot of joy, where, at that moment, people forget some of the frustrations from the rest of the year. You have to look extravagant, drawing lots of attention and shining a lot. This kit is full of things that will help you do that. Each person is going to be themselves inside the game, because there are tons of outfits and accessories, which I know for sure will make you rock the runway!"
Most known for her music, one that melds electronic dance-pop with elements of traditional Brazilian sounds, drag queen Pabllo Vittar is also an actor, dancer and model. Earning a number of awards and accolades in her young and budding career, including Time magazine's list of Next Generation Leaders. Through her unique style and big voice, Pabllo inspires people from all walks of life to be unapologetically themselves.
As part of this collaboration, we will drop a Carnaval surprise into the Base Game today, for everyone to enjoy. Pabllo Vittar has recorded her dance hit single "Buzina" from her second studio album, "Não Para Não", in Simlish. Simmers can dance to this single in-game through The Sims 4 Carnaval radio station (I guess the surprise mentioned above isn't a surprise after all, since they just spoiled it LOL). To continue the celebration, players can expect to see a Sims Delivery Express Base Game update with Brazilian food and a mask in early February, and in March, art by Brazilian artist Lano.
"Carnaval is one of the greatest and most fascinating celebrations in the world," notes Vincent Joly, Senior Art Director for The Sims 4. "The ongoing global pandemic has caused many regions in Brazil and around the world to cancel Carnaval. Many might not be able to celebrate with family or friends. We have worked with Brazilian pop sensation Pabllo Vittar to develop different Create-A-Sims looks inspired by the colors, vibrancy, feelings and emotions of Carnaval."
The Sims 4 Carnaval Streetwear Kit will be available beginning February 3, 2022 on PC and Mac via Origin™ and Steam®, PlayStation®5, PlayStation®4, Xbox Series X|S and Xbox One systems.
The Sims 4 Carnaval Streetwear Kit - Included Items