It's finally HERE! The Sims 4 Color Swatches Update is massive, bringing 1200 color/texture swatches to 149 base game objects that will make matching things much easier while building, without requiring you to use custom content for that!
The Sims 4 Update, September 21st, 2021
PC: 1.80.69.1030 - Mac: 1.80.69.1230 - Console: 1.48
Hello Simmers!

We hope this Game Update finds you well!

As Summer has ended and the Pumpkin Spice season starts (you all know I'm ready for my pumpkin spiced coffee!), our Art Team has a treat for Simmers that love to build. If you are not an expert builder that is quite alright, I'm not either, but I do enjoy trying a few styles and choices so no worries in that regard.

Thanks again for your continued support, we truly appreciate it!

Chaus!

-SimGuruRusskii
---
---
What's New
By now, all of you know of two kits coming as part of the Season of Selves: Fashion Street and Incheon Arrivals. As part of this update, EA added a few Create A Sim assets to the Base Game for everyone to enjoy. These additions are inspired by the new looks featured in these two new kits.
There's two full-body assets inspired by the Fashion Street of Mumbai for both Male and Female Frames. They also added a bottom piece for Male Frame Sims as well as a headpiece, a tattoo, and a bracelet!
Inspired by Seoul fashion they also bring two full-body outfits and two new hairstyles to complement your Sims inspired by some of the popular hairstyles you would see on TV or socials.
Below you can see a screenshot with a view of these assets. Enjoy!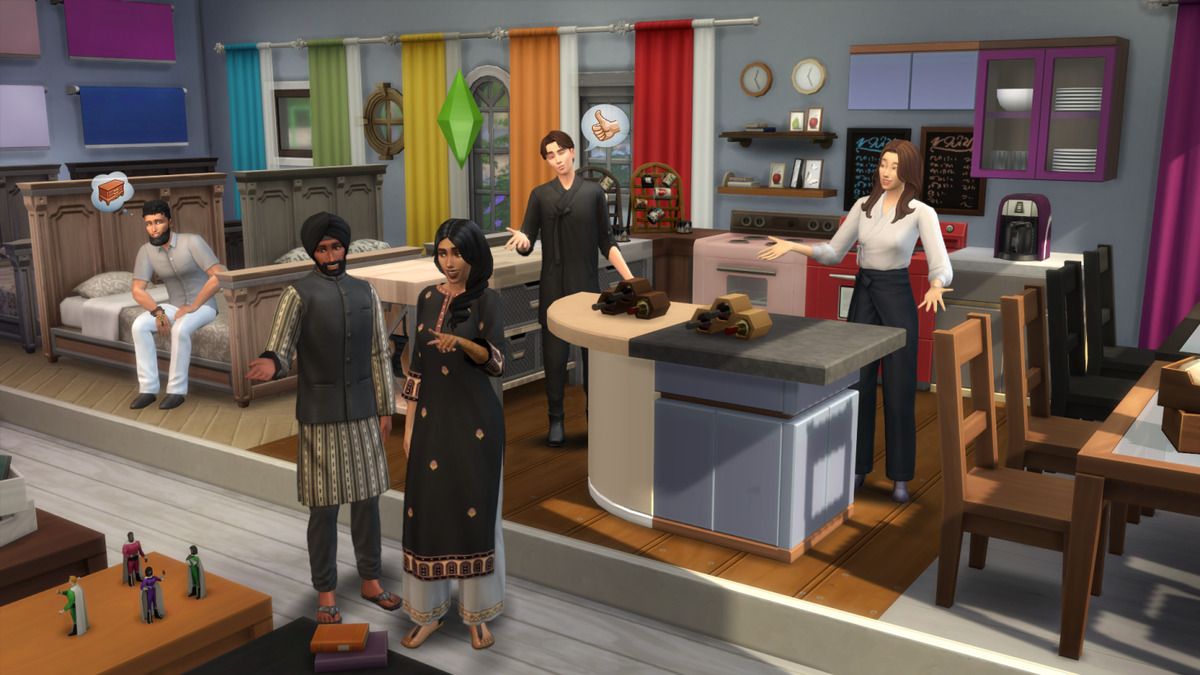 149 Assets - 1,200 Swatches (Textures/Colors)
EA's art team took over this Game Update and added about 1,200 new variants (yes, you read me correctly, about 1,200 variants) to 149 Base Game items in Build Mode. The Art Team's vision was to complement and enhance these assets so Simmers have more choices and have more use out of them, making it much easier to match things while building or decorating.
Below you'll see the names of the assets, with images, that have added variants to. In these screenshots you will notice some arrows and green dots which point out the new additions.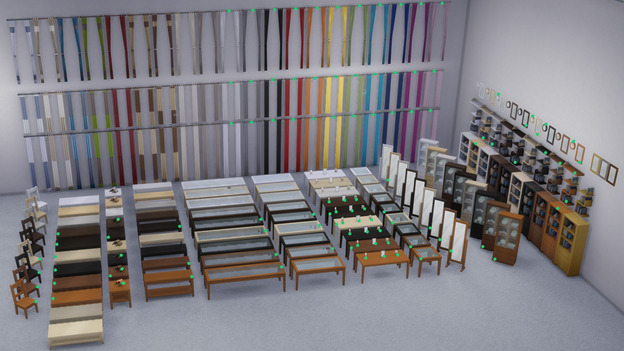 Illusion Shades
Flaunting Flounces Panels
Minimalist Drapes
Sooner or Ladder Contemporary Dining Chair
Tabula Rasa Coffee Table
Tabula Rasa End Table
Tabula Rasa Console Table
Grand Hall Dining Table
Grand Designs Dining Table
Simplicity Dining Table
Square Meals Dining Table
Floored by Symmetry Standing Mirror
Carina Dining Hutch
Simple Symmetry Bookcase
Intellectual Illusion Wall-Mounted Bookshelves
Great Wall Mirror
Capped Wall Plank
Dodecagon Contemporary Clock
Honeycomb Bottle Holder
On Phantom Wing Framed Art
Apple of Your Eye Framed Watercolor
Pear Essentials Framed Watercolor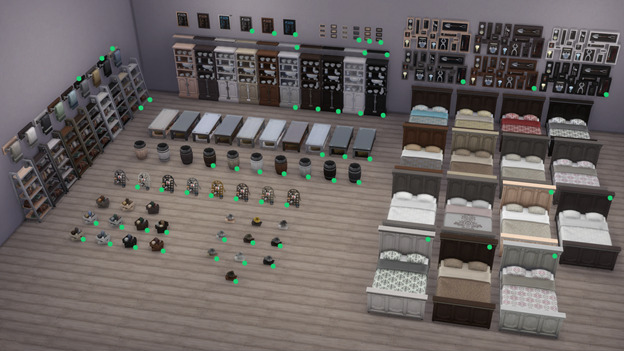 Terminus Reclaimed Pipe Towel Rack
RAW Bookshelf
Reclaimed Plank Shelf
Wainscott Gardens Dining Cabinet
Form & Function Industrial Coffee Table
The Barnish Bed
Boardwalk Trashcan
CONCEPT Coffee Mug Rack
Cluttered Mind Box Set
GrammyFone Old-Fashioned Music Player
In Session Novelty Chalkboard
Three Framed Skeleton Keys
Ordinary Things Shadowbox Display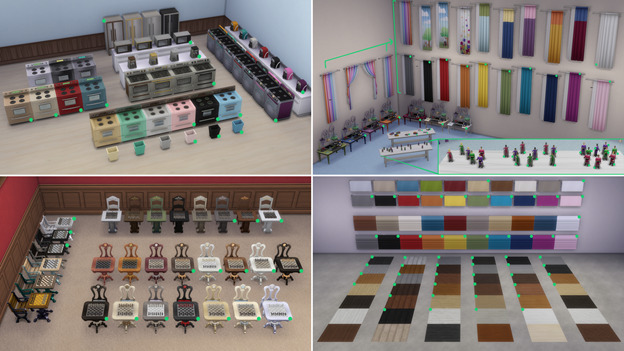 Cooking-U Pro
Crisponix Ultragreat w/ Deluxe Crisper
The Omniwaver
Café Immodéré
London's Choice
The YumCooker
The Schmapple Oven
The Schmapple Coffee
Garbelle Wastebasket
Popped Color Curtains - Left
Popped Color Curtains - Right
Sunny Shades - Left
Sunny Shades - Right
Junior Wizard Starter Set
Mega Couple Of Books
The Purple Protector Action Figure
The Purple Pursuer Action Figure
The Chessmaster
Chess under the Stars Patio Table
Grand Plans Chess Table
Cabin Slats
Simplicity Shade
Limber Lumber Traditional Hardwoods
Rustic Subfloor Slats
Eco-Craft Hardwood Flooring
ForestFine Wood Flooring
Old World Wide Plank Flooring
Herringbone Hardwood Flooring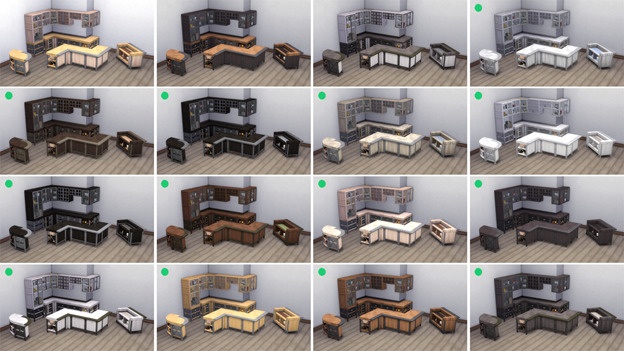 VAULT Modular Counter
VAULT Modular Island
VAULT Wall Cabinets
VAULT Pro-Level Bar
BlandCo Contemporary Counter
BlandCo Contemporary Counter Island
BlandCo Contemporary Cabinet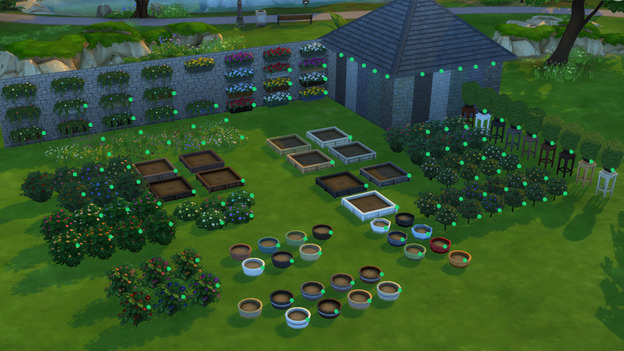 Country Fieldstone
Mega Stacked Stone
Windowbox of Superiority
Neighborly Windowbox
Garden Planter Box
Garden Pot
Bonsai Tree
Oopsa Daisies
Red, Red Shrub
Pink Aster Nots
Purple Perennial Flowers
Shaggi-luscious
Passion's Kiss
Baby's Bottom Rose Bush
Red, Red Rose Bush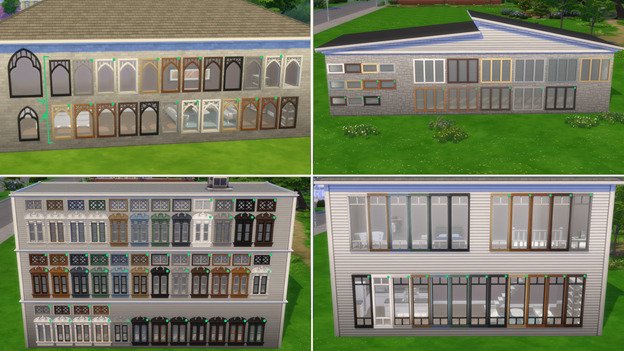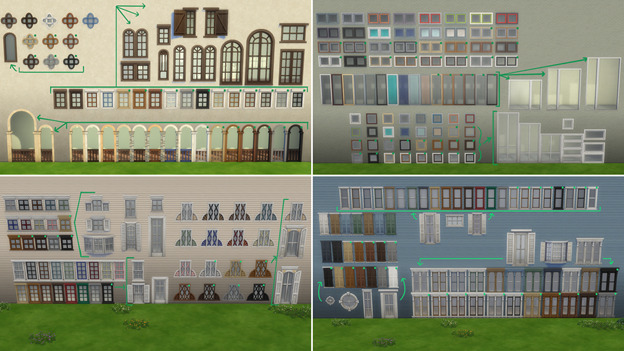 And all 64 windows present in Base Game!
Bug Fixes
The Sims 4 - Base Game
Sims living that career lifestyle but their outfits were… not up to par? Were your Sims' career wardrobe a bit stale as you moved up that career ladder? Not exactly dressing for success, right? No worries, we have fixed that issue and now all career levels should have appropriate outfits. Go you, good luck!