Also known as The Sims 4 Deluxe Party Edition, it seems to be a bad joke from EA! For $ 15 dollars you only get these items... If you used to hate My First Pet, you have something even worse available, right now! 🤦🏻‍♂️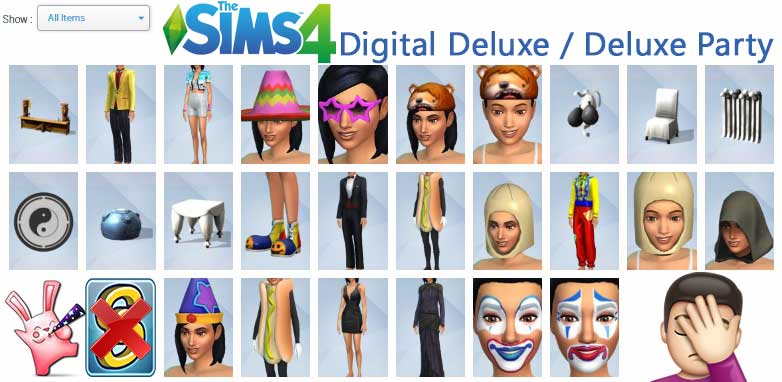 Is this supposed to be a joke? Sadly, I don't think so. Who would pay $ 15 for those 26 items? The fact that it's being relaunched on PS4 and Other Consoles right now doesn't it make the blow less painful. I really wonder why all the hate on My First Pet Stuff Pack when we have a much stronger contenter (which is trending on google right now, by the way 🤦🏻‍♂️).
The Sims 4 Digital Deluxe Upgrade

Make your Sims the life of the party with Digital Deluxe Upgrade! From laser light shows and wild party outfits to Tiki bars and festive decor, explore the adventurous side of your Sims' mind, body, and heart.

• Life of the Party Digital Content

• Up All Night Digital Content

• Awesome Animal Hats Digital Content

• The Sims 4 Digital Soundtrack

EA.com
To be honest, you are way better off downloading free custom content from individual creators in the community. You'll find much more variety and it won't make you go bankrupt. 😛
Now, if you want to play using your XBox there's a bundle on sale right now ($5 on Microsoft Store) that does not look so insanely bad if you still don't have the base game, but be warned: You won't be able to play with it on your PC as well, it's just a console license!
What do you think about it? Does it win or do you still hate My First Pet more than this? Leave your opinion in the comments section below!