Love is in the air... Or is it? Their destiny is in YOUR hands! The Sims 4 My Wedding Stories is planned for February 23rd, 2022...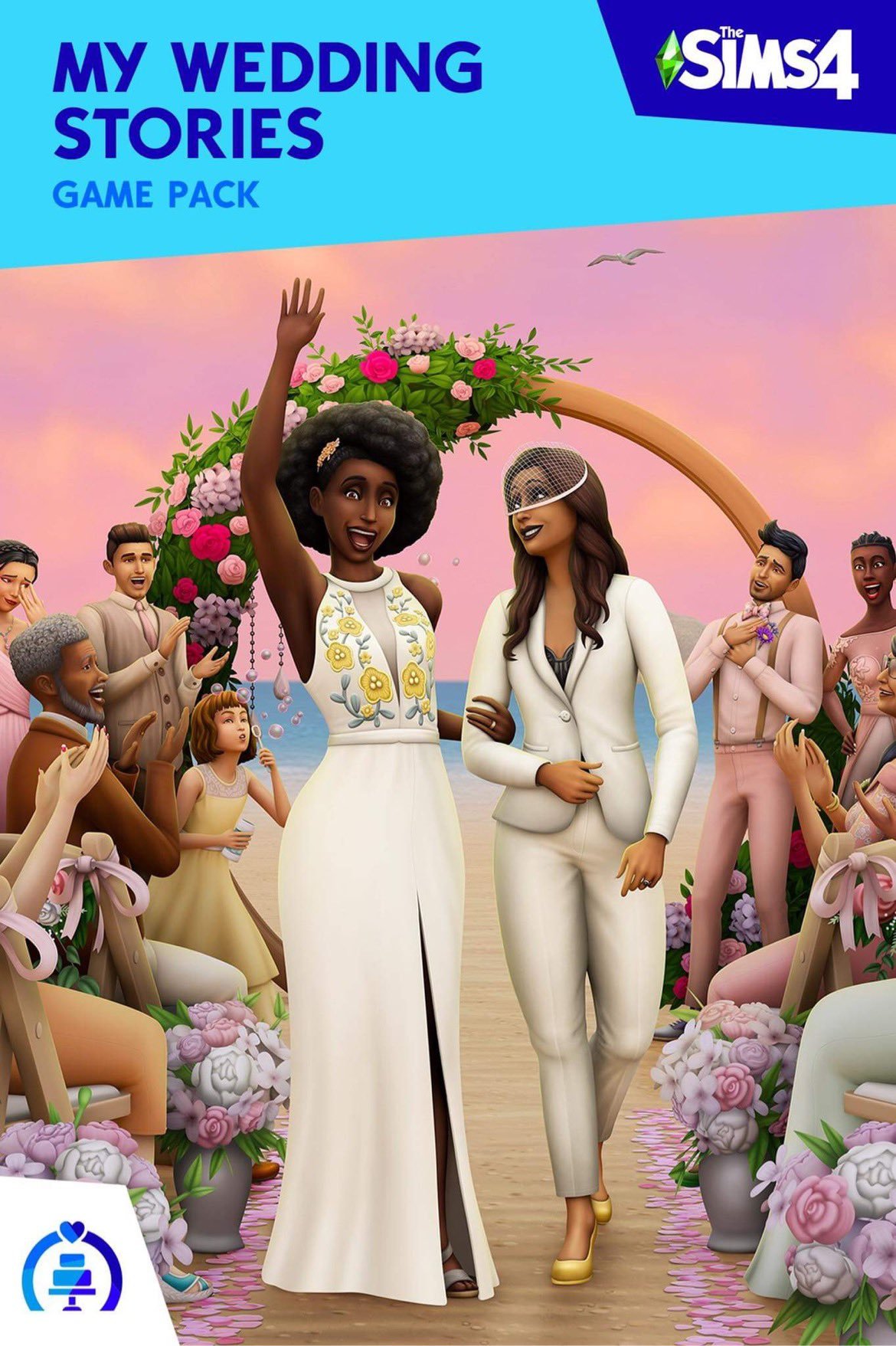 It's time to walk down the aisle with The Sims 4 My Wedding Stories Game Pack! Embark on this journey for the day and plan the perfect ceremony. From the wedding request to the reception, customize every detail to celebrate each Sim's love story in a truly unique way. In the world of Tartosa, anything becomes romantic.
---
---
The Sims 4 My Wedding Stories - Key Features
Get Ready to Party
Asking the question is just the beginning of your Sim's wedding experience. After saying "yes," the excitement and anxiety takes over. There is so much to plan! Choose Sims of honor to make the wedding experience the most fun possible. Then hold the engagement dinner, rehearsal and make the most of the last night without a spouse.
Bring Your Plans to Life
Focus on the details of your nuptials. Select the wedding costume of The Sims and everything necessary for the big day: the menu, the decoration, the programming…. everything! Visit locations created by community staff as your Sims sample cakes, choose the flowers and adjust the traditions that will make the wedding day more special.
Affirm Commitment
Before the big event, celebrate with the family at a rehearsal dinner. When it's finally time, let the love flow and realize all your wills. Exchange vows, alliances and kisses at the altar before the real celebration begins. Start the ceremony serving tea to the family or go straight to the reception. People at weddings and those who have been invited Can Dance With Us honey, while spouses cut the cake, make speeches and receive congratulations.
---
---
The Sims 4 My Wedding Stories - Introduction
Find Marital Bliss In The Sims 4 With My Wedding Stories Game Pack
Drop into a Wedding You'll Fall In Love With
Introducing Tartosa, the most romantic world in all of The Sims 4. The sunsets are heartstopping, the beaches are breathtaking, the gardens are astonishing, and the waterfalls are awe-inspiring; Tartosa is a paradise made for love.
This idyllic world is the perfect place to celebrate your Sims' nuptials, from putting a ring on it to the renewal of vows, reflecting a true wedding and happily-ever-after experience! You'll be able to creatively discover different sides of oneself to plan out many versions of your Sims' dream wedding: the festivities leading up to the ceremony, participants, decor, dresscode, cake, location and more.
Find now more information about the new Sims 4 Tartosa World and a few elements to expect from The Sims 4 My Wedding Stories Game Pack.
Pre-Wedding Festivities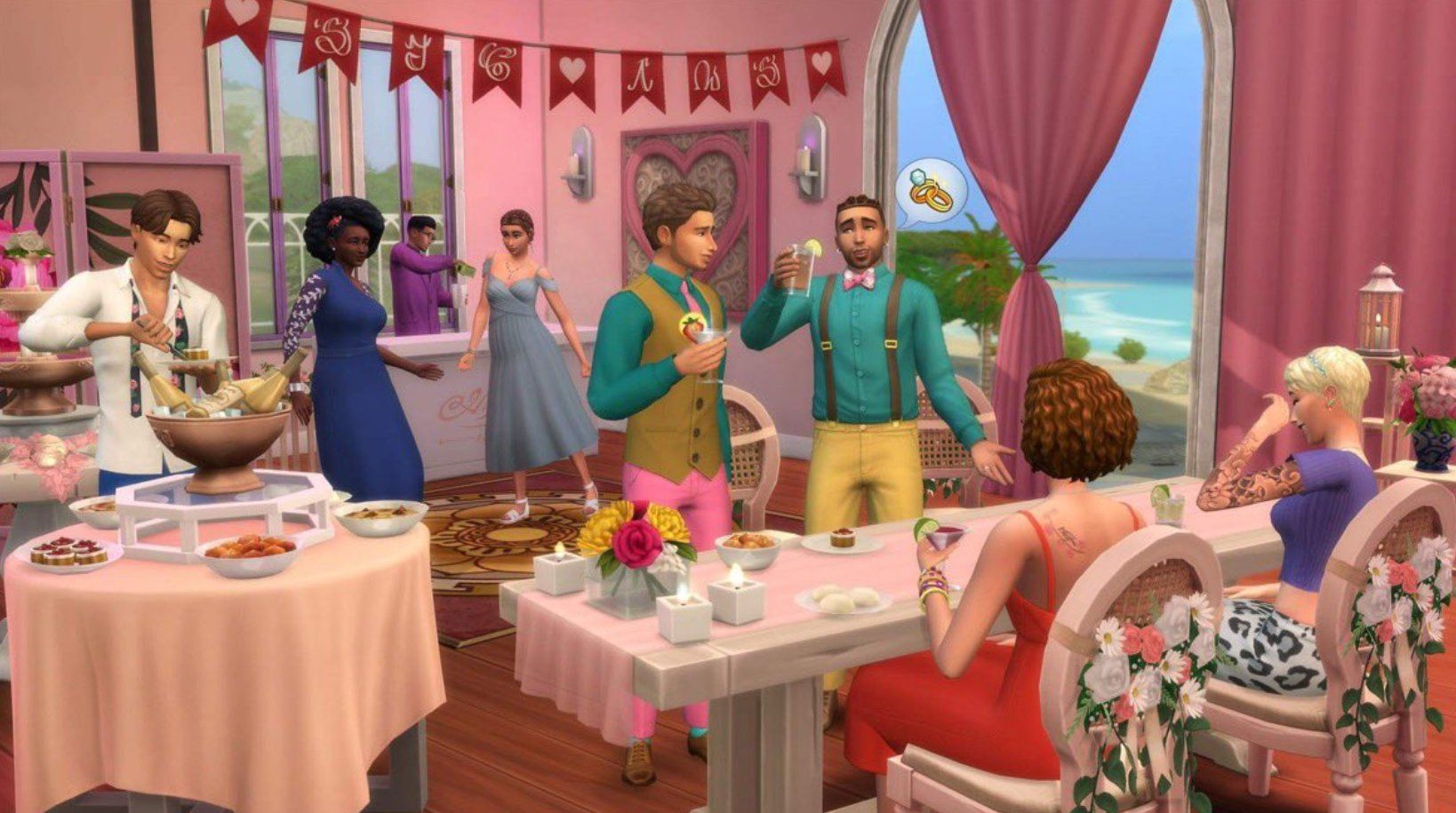 A wedding doesn't start until your partner says "yes," right?
Enjoy the thrill of every major moment leading up to the Big Day, starting with your engagement. Although you can absolutely be the spontaneous type and elope at City Hall, you can also spend some time selecting that flawless ring in Create-A-Sim, picking the right time and location. When they say yes, you and your partner have the preference to host pre-wedding parties to celebrate the big news with family and friends.
Just like your wedding, your Sim couple can plan their Engagement Party, Bach Parties and/or Rehearsal Dinner any way they want (🤔 really?), complete with the option of toasts, speeches, food, gifts and dancing, as well as the choosing of a Sim of Honor (only one?).
Ultimate Checklist for Planning Your Nuptials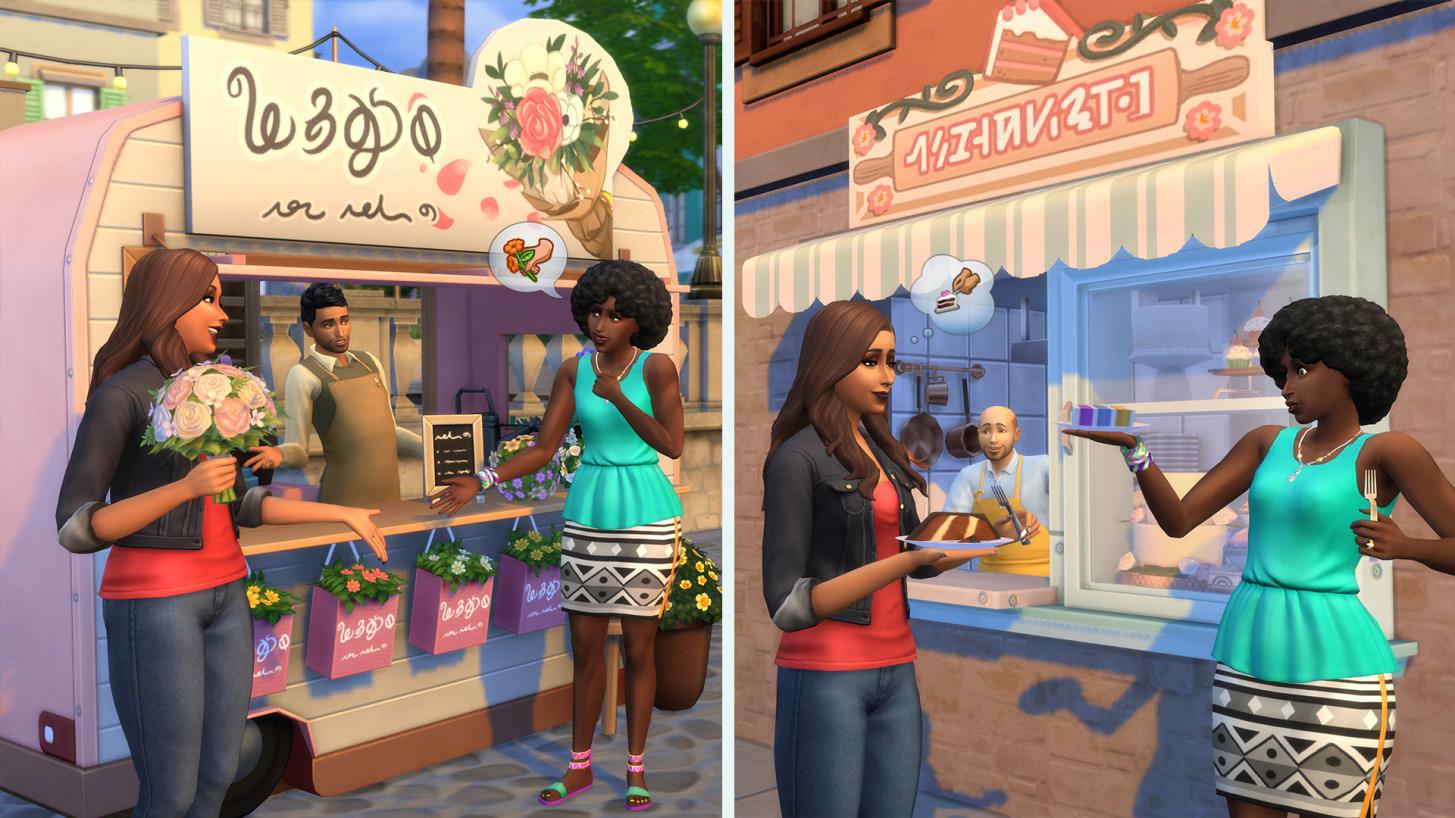 The fun of planning all of the ceremony details may begin – and you can make your wedding(s) uniquely yours! You don't like to dance? Not a problem; we'll just prepare more food.
After you've established your Sim couple's likes, dislikes, wants and nots, you can move on to setting a date and choosing your venue. Tartosa is full of picturesque locations – from a Coastal Village to the Forested Inland – with everything you need to make your wedding day magical, including reverent residents and local lore. There's extravagant ballrooms, sunset-laden beaches, and peaceful gardens. EA partnered with community creators from different backgrounds to create lots that represent our community, like icemunmun's "Garden Palace of Vows" and "Centurial Harmony Garden" created by CatherineGamesYT.
Once you're in town, you can go to the local wedding attire boutique to try on a vast array of dresses and tuxedos (relieved to see there's going to be tuxedos too, since they mostly featured gowns 😉). From traditional to modern, from flowy white gowns to the reds and henna typically worn by Hindu brides, there's a look for everyone. Then, you'll be able to visit the flower cart in the center of town to choose the bouquet you'll inevitably toss over your shoulder.
What's a party without a cake? Swing over to the patisserie shop to taste test and put your personal spin on your Sims' perfect cake from seemingly endless options and combinations – and don't forget your cake topper!
The Perfect Cinematic Wedding
Today's the Big Day and now it's time to revel in everything you've built. If you're celebrating a more traditional Chinese matrimony, you can start the day with a Family Gathering – the customary tea ceremony – serving refreshments to your respective families.
After slipping into your wedding attire, it's now time to start the Wedding Ceremony. Your guests will gather together to cordially await your arrival. Once you've sent down your flower pal and ring bearer down the aisle, if you so choose to, then you and your partner will do the same, either alone or with someone to give you away. Vows exchanged, I Do's certified, and the first kiss seals the deal. Congratulations, newlyweds! Let's party!
In the Wedding Reception, you'll have an opportunity to toss your bouquet, cut the cake with your partner, and even share your first slow dance as a married couple, complete with a rehearsed twirl-and-dip. Then, move over, the rest of the party wants to join you on the dance floor.
Memories to Last a Lifetime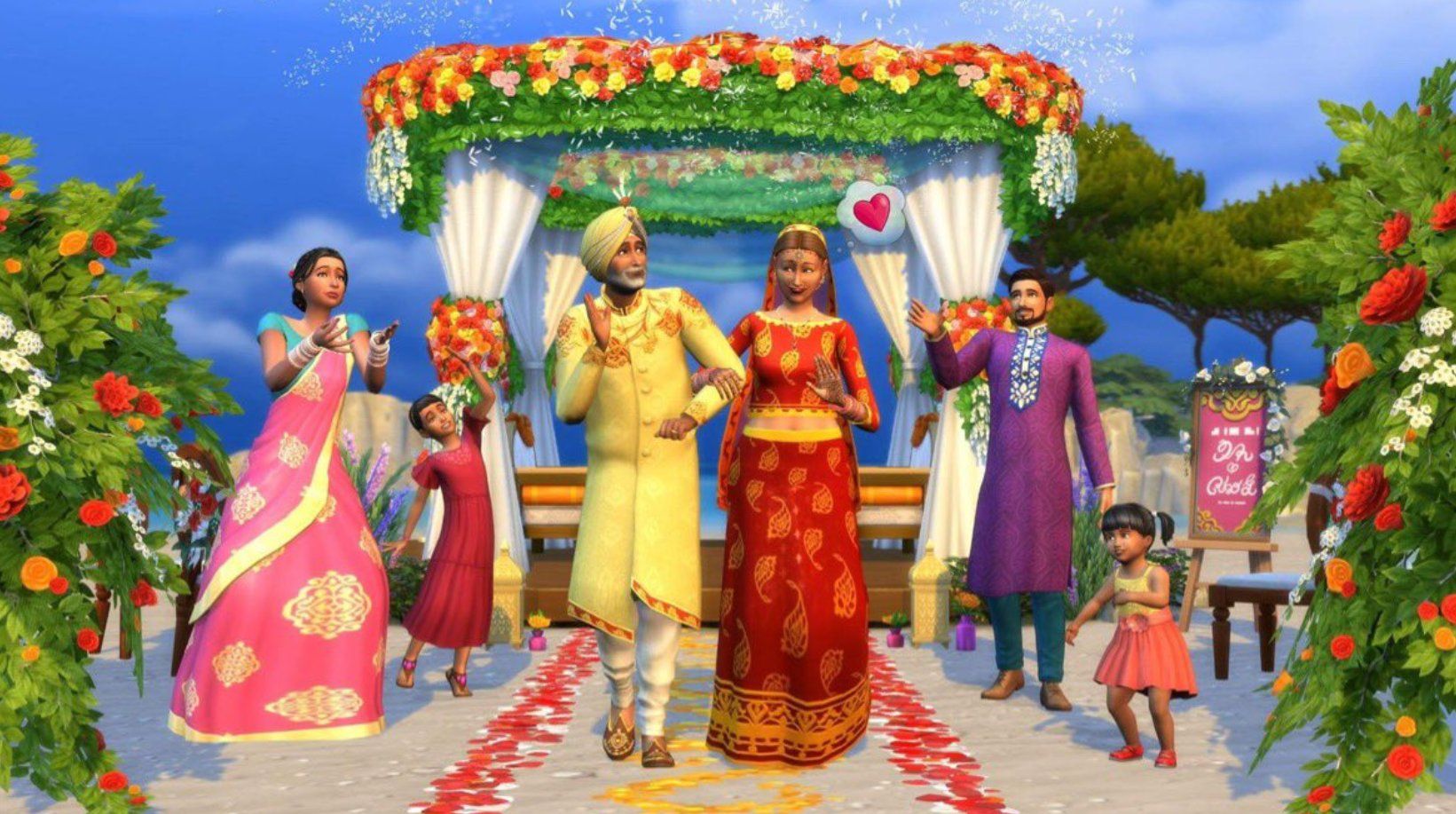 You and your partner's celebration doesn't stop after the reception. You'll have a lifetime together to memorialize your matrimony, starting with the photos you captured and vacations you planned. Whether you stay in Tartosa or travel to another far-off world, you'll be able to enjoy your new life with an intimate vacation for two.
As you and your partner grow old, you two will also have the chance for Vow Renewal, reaffirming your love for each other in a smaller, simpler version of your wedding ceremony.
The Sims 4 My Wedding Stories Teasers, Elements and Backstory
After a long friendship, Dominique and Camille actually got together on what was supposed to be Camille's wedding day. A little untraditional, but when you find your person, you just know! No big surprises expected this time around...
Famed for its wedding industry, Tartosa is rich with beautiful venue options! They considered the beach and the forest, as well as a local estate and a church. Ultimately, they decided on a garden wedding!
They did some window shopping in the village to choose their wedding looks... If you need some ideas, you can do the same for some fashionable attire!
For a garden wedding, nothing is more appropriate than florals. There's a few decor options for everything; from the cake to the bouquets, seats, table setups, and more!
---
---