Plop down in one of the four new rocking chair variants to chill, knit, nap, or read a book. The Sims 4 Nifty Knitting, released July 28th, 2020, is HERE to help your Sims have one more activity while they're home bound and bored...
Main Features
Waaaaay back in November, our Dev team announced a new Community Voted Stuff Pack was just getting underway, and now, after months of work on it, we're thrilled to be able to announce the release date for it: The Sims™ 4 Nifty Knitting Stuff Pack* will be launching on July 28 for Mac/PC, Xbox One, and PlayStation®4!

EA Developers Team
Get Knitty With It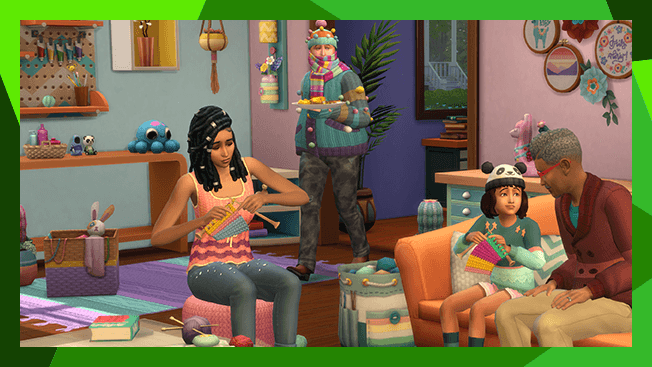 With a Yarn Basket, everyone from children to elders can pick up their new favorite hobby. Knit clothing for the whole family, or decorate with knitted plant hangers, rugs, and even toys for kids! Once you've increased your skills, teach other Sims to pass your knitting knowledge along.
All your Sims need for their new hobby is a yarn basket. Sims start with knitting socks and beanies, but as they grow more skilled, they can tackle more interesting challenges like sweaters, baby onesies, toys for kids, and even mailbox cozies. Why? You mean, why not. Once you're skilled enough, you can share the joy of knitting with other Sims, too. Just sit down together and start teaching them to knit, or give them the gift of a misshapen but well-intentioned sweater. It's the thought that counts. Probably.
Prepare to Rock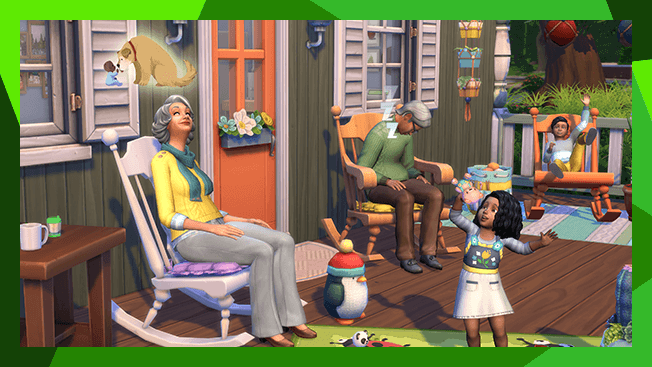 Plop down in one of the four new rocking chair variants to chill, knit, nap, or read a book. (Psst: Sims get a bonus to their Knitting Skill while on the rocking chair too!) Sitting in one is quite relaxing for Sims, so uncomfortable, sad, or angry buffs will diminish quicker. Elder Sims also have a new Reminiscence interaction with the rocking chair, giving them a comfy way to explore their mind palace and fondly remember times of fun, while children and toddlers can play on it.
Of course, rocking chairs aren't the only things that rock in this pack. Did somebody mention a new Metal music station? We did! Sims listening to Metal feel Energized and gain bonuses to Knitting while they listen—so don't be alarmed if you see your Sim jamming on an air guitar.
Shop Online With Plopsy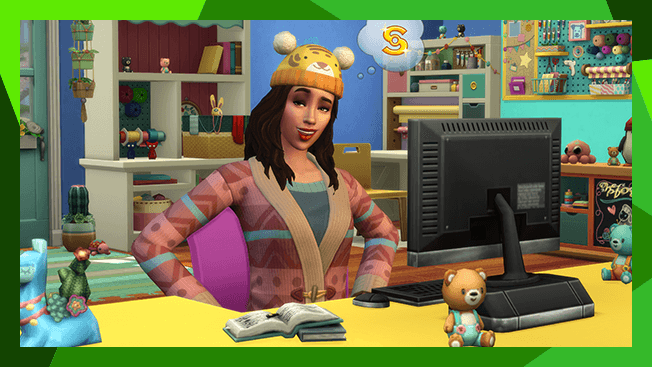 The more you knit, the more you can earn on Plopsy, the new online crafting marketplace where you can sell everything from socks and sweaters to paintings and woodworking projects. Once you've crafted an object, it costs a small fee to list it on Plopsy, but your item remains listed for several days, and you can easily track potential buyer interest during that time. As a bonus, Plopsy offers a higher payout than selling things the old-fashioned way.
Now, if your Sim is more of a shopper than a crafter, you can also use Plopsy to buy unique goods! Plopsy rotates in random crafted items throughout the day, so all your Sims have a chance to get some cool stuff (including the new knitted clothing!).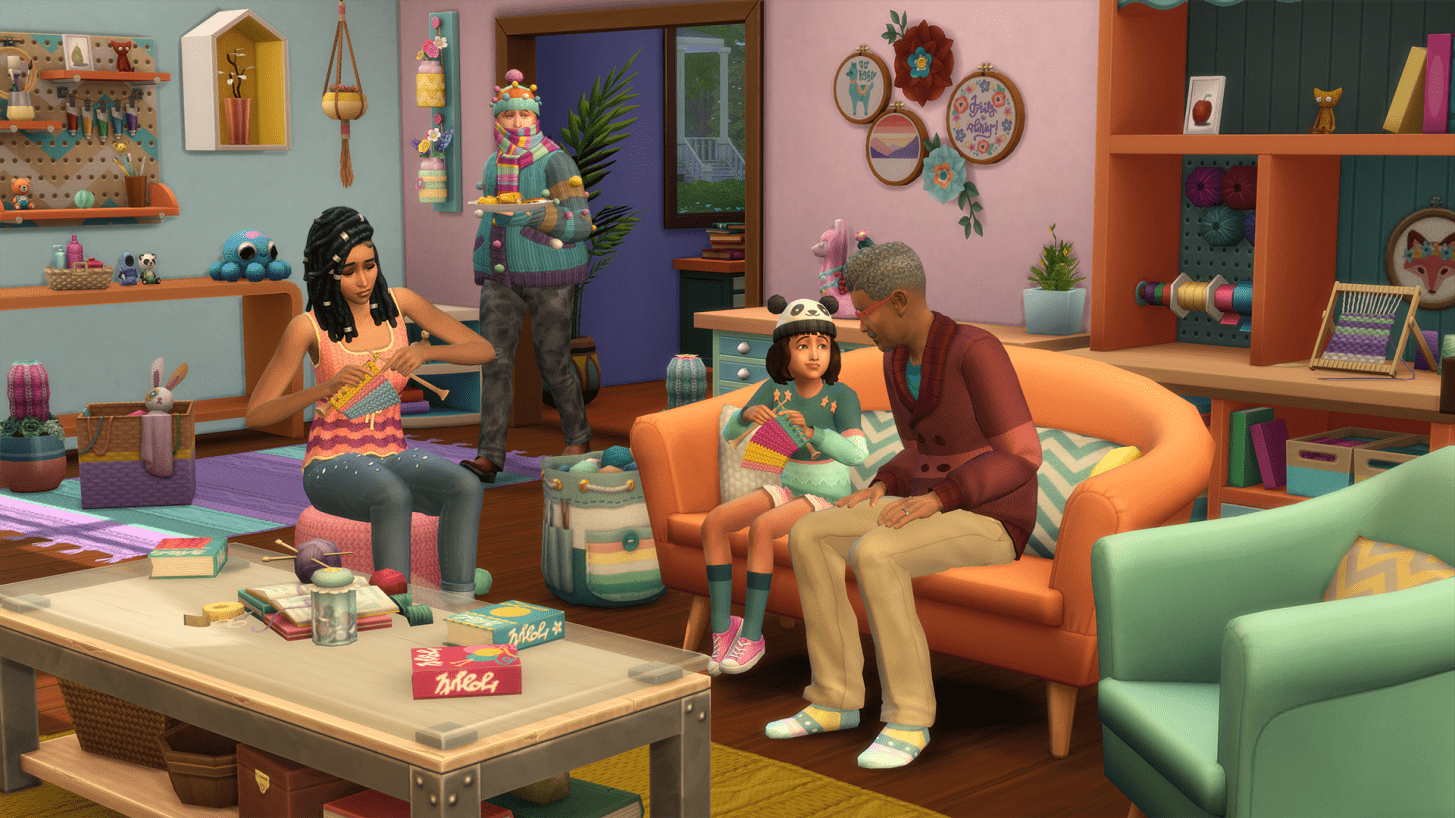 Many of you have been with us since the start of the development process. You helped choose the theme, art style, objects, Create-A-Sim assets, and even the title and icon for the pack, so this is as much yours as it is ours. We've been excited to share a series of deep-dive posts over on the Forums as well, giving you a peek into the design and development process. If you missed any of them in real time, have no fear: you can read them all now to get the details you're craving.

It's been such a joy to craft this project with you, and we can't wait to see what you and your Sims knit up in-game. It's almost time to grab your needles and yarn—just two more weeks until you can start dressing your Sims in their own creations!

EA Developers Team