Today we just got a new update that fixes a bunch of bugs and also revamps the main menu. Check below what else comes with The Sims 4 Ring Ring Surprise Update 1.87.40.1030 and decide if you want to move on or stay in the previous version for now, so you can continue enjoying your old mods & CC for a little bit longer...
---
---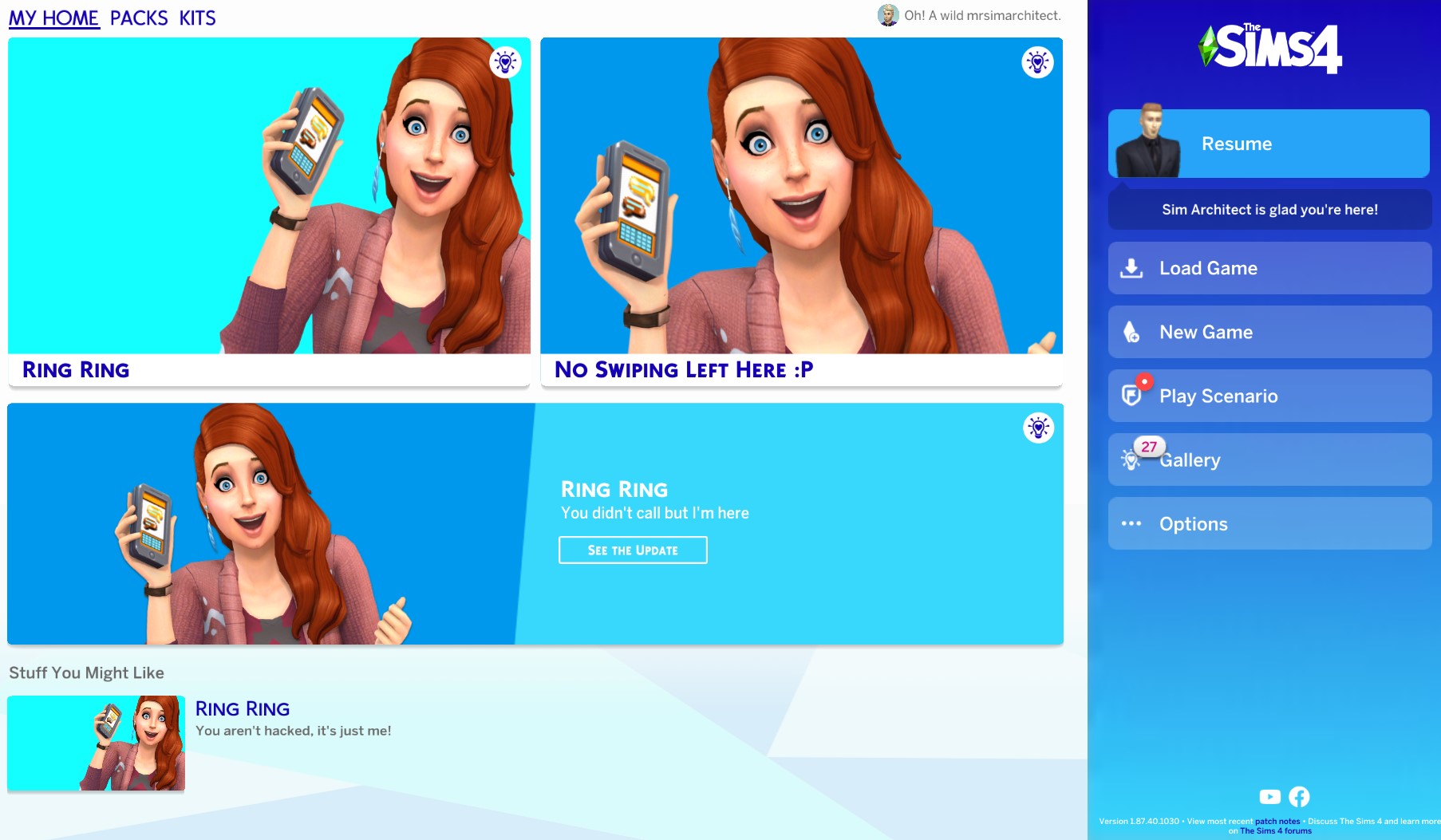 The Sims 4 Ring Ring Surprise Update - Patch Notes
PC: 1.87.40.1030 - Mac: 1.87.40.1230 - Console: 1.58
Hello Simmers!

Can you believe that we are already approaching the end of the first quarter of 2022? Where does the time go? We hope you have been enjoying Neighborhood Stories and are looking forward to everything that is coming through the rest of the year.

To round out the first four months of the year, this update brings with it a number of bug fixes including some which have been high on your lists, and a new Main Menu which is more focused on you and your Sims.

Let's take a look and see what's been updated with this release.

The Sims Team
New Features
New Main Menu / Title Screen
We have a new look for the Main Menu and it isn't just aesthetics.
First thing you will probably notice is the new launch panel on the right, not only does it look different, it has new modular features built in to personalize your experience.
If you are a new Simmer, you'll notice that the New Game button includes some motivational messages underneath it to help you with your first game experience.
If you have been with The Sims 4 for long enough to create a Saved Game then you'll notice the Resume button is no longer a giant play icon and instead displays a profile picture of your last active Sim from your last saved session. Your Sim will have a little something to share or say!
Surveys
These little surveys will appear periodically on the Main Menu and can be completed without leaving the game (hello, privacy??? 🤔). Some of these surveys will be fun while others could help shape the future of The Sims 4 based on your feedback.
If you prefer to control when you see or don't see surveys in-game, you can toggle your setting in Game Options > Other under the "Enable in-game surveys"
New Packs Filters
On occasion, when checking out the latest Packs, you might notice a new entry in the Pack filters at the top of the screen. Be sure to check these out when you see them, there could be something new to discover that you might have otherwise missed.
Dynamic Main Menu Panels
Some of the information panels on the Main Menu come with expanding information panels. Simply hover over a panel and the details will present themselves, move off the panel and the information box will collapse down again.
---
---
Bug Fixes
The Sims 4 - Base Game
Starting a Scenario and attempting to move your household in with an existing household will no longer silently end your Scenario. Now, you will need to complete or cancel your active Scenario before merging households.
Fingernails should no longer clip into the fingers and look distorted while creating a Young Adult Female Sim in CAS. EA is still fixing distorted nails in other situations so keep an eye out for additional fixes in this area in future updates.
For Simmers on PlayStation and Xbox running into an issue with dropping walls and moving between floors with the D-Pad, there's have good news! They have implemented a fix which should restore your D-Pad functionality.
Simmers that chose to cancel the process of saving a built up lot to My Library while the Lot thumbnails were being generated could find themselves temporarily locked out of navigating the Lot or would experience graphical flickering. This performance impact should now be resolved and the thumbnails will no longer generate behind the scenes after canceling the Save Lot process.
They tidied up the Game Options menu a little by removing the Fill In Empty Lots option. This particular option has been superseded with Neighborhood Stories and the "Move In" functionality.
Pulling a prank and breaking the toilet is all fun and games, until you can't repair it which is exactly what happened to the Sweet Escapes Country Toilet. The toilet is now repairable by your skilled Sims or by calling in a repair service.
While planning an event, jumping between Invite Sims and Select a Place tabs will be accurately reflected in the tab icons.
The Origin In-Game overlay on PC should resize to the correct resolution if it was open during game client resolution changes.
Selecting the button on a video window before the video finished playing was leaving some players with a gray screen. This should no longer happen.
The Sims 4 Discover University
University can be tough but re-enrolling after being suspended shouldn't be one of those difficulties. Now when you get your acceptance letter in the mail your Sim will be able to head back and complete their higher education journey.
The Sims 4 Outdoor Retreat
NPC's were getting so stressed that they would make the De-stressing Decoction on the grill and then finish it on the stove. Now, they will no longer split their creation of this concoction between grills and stoves.
The Sims 4 Décor to the Max
The Circle of Infinity wall sculpture comes with plenty of warnings, but after getting lost staring into the circle of infinity, we went and sorted out that infinity frame, which didn't accurately represent the lighting from the environment around it.
---
---