Download and install The Sims 4 June 10, 2020 Update 1.63.136.1010 with this smaller repack if you already have The Sims 4 All in One Eco Lifestyle 1.63.134 installed.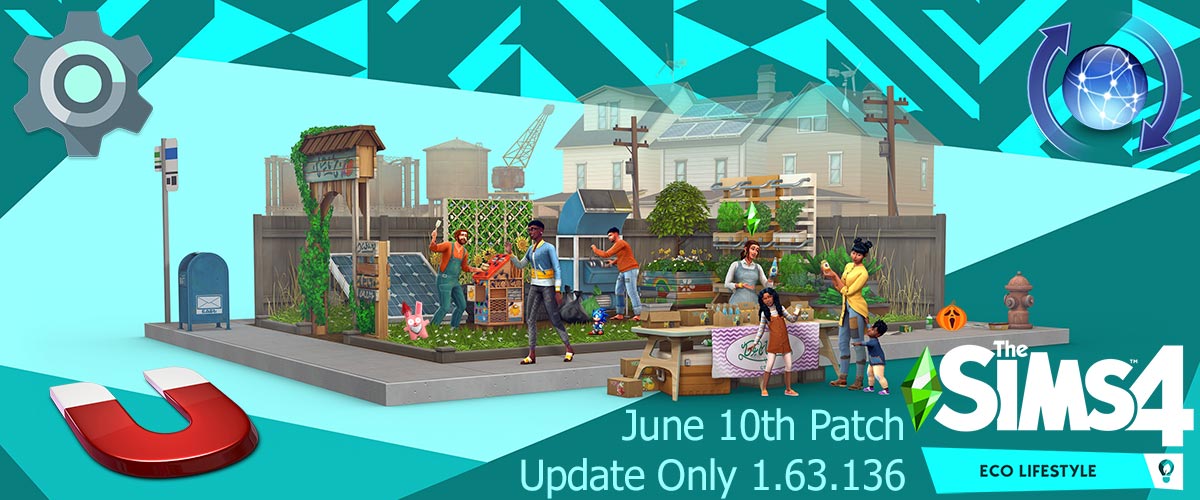 ---
---
---
---
In the next pages of this tutorial (navigation at the bottom) I will show you how you can update the portable version of The Sims 4 All in One that you already have with the latest patches and Eco Lifestyle Expansion Pack.
---
Update June 10th, 2020 - Patch 1.63.136.1010 / 1510
Update 6/10/2020 - More Fixes for loading Save Games

PC: 1.63.136.1010 / Mac: 1.63.136.1210 / Console: Version 1.27

Thank you for your reports and assistance in tracking down these issues:
- Fixed a crash that occurred when loading some households.
- Fixed Error Code 134:368f1773:b4bcf72 preventing some saves from loading.
- Fixed Error Code 109:e56fc6bb:dc1a1b58 preventing some households from loading for Simmers who do not have Get Famous installed.
- Changed one of the patterns of a women's sweater in Eco Lifestyle (yfTop_EP09SweaterCropPrint_Brand).
- Edited the description of the Footloose Beverage Bodega in all languages.
- Restored the missing texture of wall hanging decoration Roman Temple Architectural Study.

Official EA Release
---
Included in This Release
The Sims 4 1.63.136.1010 + Legacy 1.63.136.1510 June 10th Update 🆕
Also Included...
Visual C# Runtime Libraries
Language Changer
DLC Toggler [Lets You Turn Expansions On/Off]
DLC Uninstaller [To Uninstall Unwanted Expansions Permanently & Save Space]
---
Content designed to help you have more control over the game you already own through legitimate methods. I am not the creator of the game and I am not responsible for the misuse of the content found on my site or any other media where I publish.