The Sims 4 Modern Luxe Kit adds stylish and modern furniture, décor, and accessories to the game. Create a sleek and sophisticated home for your Sims. Coming September 7, 2023.
The Sims 4 Modern Luxe Kit - Introduction
It's time to turn heads with your most vibrant looks – both indoors and outdoors! From bright and playful swimwear designs to luxurious modern furniture, create the very best ensembles and spaces that make a statement this season in The Sims 4!
With The Sims 4 Poolside Splash and The Sims 4 Modern Luxe Kits, players can style their Sims for a day strutting their stuff at the pool and design a luxurious bedroom for an evening of relaxation in comfortable elegance.
The Sims 4 Modern Luxe Kit - Live in the Luxury your Sims Deserve
It's time to sit back and treat your Sim to a life of luxury. They've worked hard and it's time to celebrate how far they've come. With The Sims 4 Modern Luxe Kit, your Sim can say "I made it," through elegant art, sophisticated décor and cushy comfort. Leave frugality in the past and showcase your Sims' signs of success.
Embrace your creative side and design a stylish and inviting space filled to the brim with high-end pieces like TV's disguised as wall art, designer handbags, sculptures and a functional record player.
Xureila collaborated with EA developers and art director to create this Kit. "This entire experience has been amazing! I really enjoyed working with The Sims team," said Xureila. "From my vision board of the design to choosing the style and colors of the furniture, it was surreal seeing my ideas come to life. This is truly a dream come true! I drew inspiration from Black artists who showcased the luxurious lifestyle of Black individuals. This ultimately served as the primary influence for the project. I mixed in my own personal tastes and interests to create the final product."
As your Sims relax in their space, wind down the evening in a state of bedroom bliss. With a lavish bed and tufted headboard, vanity, plush rug and other decadent details, discover that an evening in has never felt so good.
The Sims 4 Modern Luxe Kit - Key Features
New Furniture Items
The kit is coming with 21 new furniture items (illustrated further below in the Included Items section), including a bed, a coffee table, a rug and a bookshelf.
New Décor Items
The Sims 4 Modern Luxe Kit also includes 10 new décor items like a chandelier, a vase and a painting, perfect to add a touch of luxury to your Sims' home!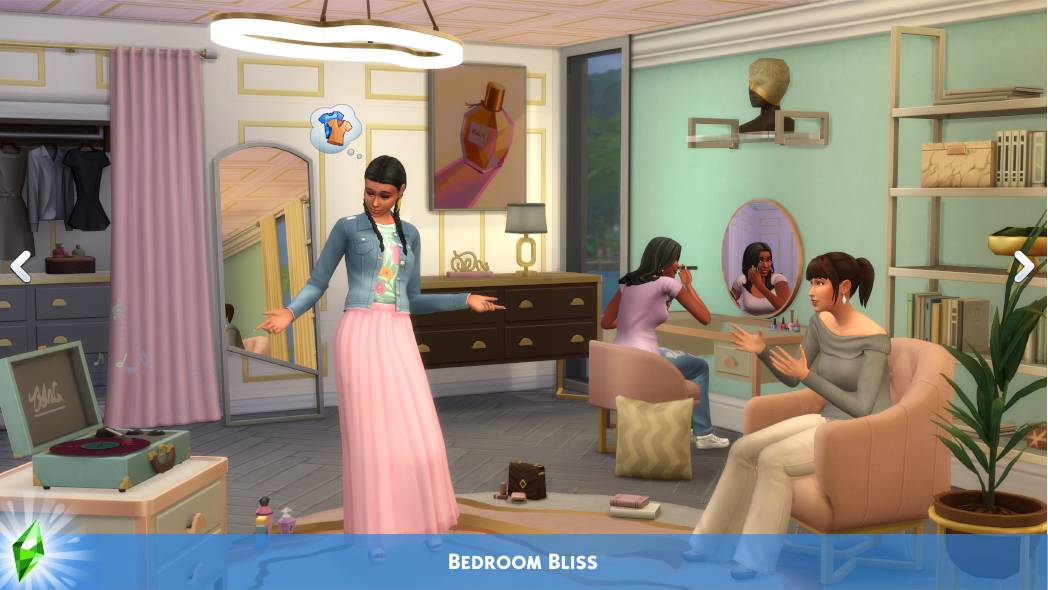 New Patterns and Textures
The kit also includes new patterns and textures that can be used to customize your Sims' furniture and décor.
The Sims 4 Modern Luxe Kit - Included Items



The Sims 4 Modern Luxe Kit - Release Date
The Sims 4 Modern Luxe Kit is scheduled to be released on September 7th, 2023
---
---