2. Download The Sims 4 Nifty Knitting - Update 1.65.70.1020
⚠ Before starting, be sure you are allowed to use peer to peer networks to download files on your internet access! Sometimes your Internet Service Provider or your Network might not allow you to use Torrents or it may be unlawful where you live and a VPN might not be enough to hide your network usage.
Using a VPN may help you, but it's not completely safe and, no matter how good your VPN service might be, it can't hide all your digital breadcrumbs left by cookies and other information shared over the network by your devices, sadly, including your geo location!
⚠ This Version is Outdated! Please Use The One Below Instead if you Want the Latest 🥰
If you are unsure about being allowed or safe to use Torrents, please consider the safer Sims 4 Automatic which is delivered and updated on your computer by using a directly synchronized folder directly managed by myself. I am not "selling it", just warning you in advance because that's what I believe to be the truth. Of course, Premium Subscriber donations help me keep the site up and running, keep that in mind 😇.
Anyway, if you know you can use torrents without issues and you already have a torrent client installed (I recommend Tixati, as uTorrent sometimes doesn't process large downloads well), to download the game you will use the link below.
When you open the torrent (or magnet link), if you were already downloading the game before you might be presented with the dialog below after opening the torrent file you just downloaded. Just click on Yes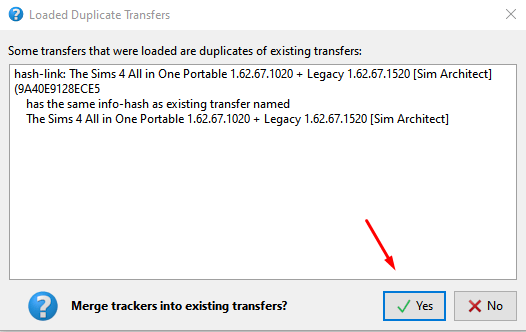 Once your Progress Bar is at 100% your download is complete and you can move to the next page for the next step of this tutorial!

How to install on the next page...
---
This is a repack designed towards helping you to have more control over the game you already own through legitimate methods. Play anywhere, anytime, on or off line. It should run without even needing to be installed in most circumstances. The instructions are designed so you can have your game properly stored and all required libraries up to date.
I didn't create the source code of the provided files and I am not responsible for the misuse of this content or any related information.